Dear Gardening Friends,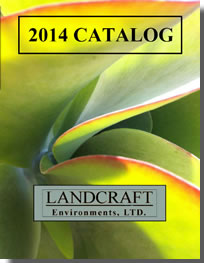 2014 Brings some new changes to Landcraft - new plants, new people and new gardens. The new plants list will be up on the website shortly; we have added some interesting succulents as that trend seems to be continuing. We've also added new varieties and selections of plants that we have been growing for a while. New colors of Alternanthera, Snapdragons, Cosmos, Caladium, Dahlia, Fuchsia, and an entire new batch of Sweet Peas will be gracing these pages. We did some traveling and collecting last year and a few of the plants we acquired have made the new plant list. We are excited about a couple of new future introductions for 2015 that we are still trialing, as we build up numbers and for anticipated production. The roll-out benches we installed in the glass house worked out wonderfully in the 2013 season and we look forward to perfecting our crop rotations and utilizing them even more efficiently this season.
The hardy plant selections are doing well. We are so glad to be able to offer some unusual hardy plant material, and have thus added a few more new hardy plants for this season . That said, with winter starting off so frigid, we may find ourselves being reclassified as Zone 6, so we may have to move some of our hardies back to the tender plant section. Conversely, if you don't see a plant that used to be in the tender section be sure to check out our hardy selection pages as it may have been moved there.
In other news, Heather has moved on to become a yoga instructor and is currently working in New Zealand, Tasmania and mainland Australia. Her position has been redistributed between Dennis, Andy and our new office manager Corey. We welcomed Corey early last spring so many of you have met her already. She is a real asset to Landcraft and welcomes your enquiries and correspondences.
We have also been very busy in the garden this past season and have added about another ½ acre to the woodland gardens while adding about the same in meadows and perennial beds. There are new stacked stone walls, and many new paths to wander on. We have also started construction of the Ruins (which will be sporting a green roof and some very decorative stonework), with a plan to have them finished by midsummer. We will be open for tours starting in late June with our Garden Conservancy Open Days scheduled for Saturday July 12th.
We encourage you to browse our website as it's a great tool for accessing images and referencing our plants. This website is available to anyone for viewing and gathering information but for pricing and ordering you will need to login with a username and password. Also contained herein is our current availability/order form, under the tab "Current Plant Availability" (accessible after login), which is updated periodically throughout the season. You can also check us out on Facebook where you can see updates of what's going on in the greenhouse and garden, as well as up to date tour and event information.
Thank you for your continued patronage, support, and enthusiasm. We look forward to supplying you with beautiful, unusual, quality grown plants again this season.
Dennis Schrader, Bill Smith and the staff at Landcraft Environments Ltd.