Dear Gardening Friends,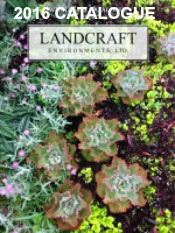 It seems that change is always in the air here at Landcraft.
As is the norm, we have added new and exciting plants to our offerings some in particular we are extremely pleased about (see page 4)! We have a wonderful new variegated cotton: Gossypiumherbaceum 'Albe Red', which features a kaleidoscope of colors on its foliage and pale pink blooms. We are also proud to announce our own new introduction, Gomphrena 'Cosmic Flare' which will be offered both wholesale here at Landcraft in addition to being marketed nationally and internationally. It grows in a similar fashion to 'Fireworks' but has glowing chartreuse foliage and bright pink blooms - not to be missed.
The gardens here at Landcraft were busy every week this past summer with both tours and events. On one occasion, we hosted the Horticultural Alliance of the Hamptons Karish Seminar with a tour that included early images of garden areas and a discussion about the evolution of each of these sites. Another highlight was hosting a luncheon for LongHouse Reserve in honor of our friend Dan Hinkley for his contributions to horticulture. It was an eventful weekend that included dinners, a lecture, luncheons and strolls through the gardens of LHR, as well as our own.
This year's Garden Conservancy Open Days drew record numbers of visitors, and we were also honored to be one of the 50 spectacular gardens featured in The Garden Conservancy's 25 year anniversary commemorative book, Outstanding American Gardens. On the cover of the September issue of Garden Design Magazine, our entry garden was featured with its Haddonstone urn filled with fall plants (be on the lookout for a few other upcoming stories that were shot here as well.)
Also as of 2016, Landcraft will be launching a boutique furniture and planter line. We will have some extraordinary pieces that will be available in 2016 - be sure to look for the upcoming announcement along with ordering information. We have also designed a container for Seibert &amp Rice: a beautiful terracotta planter adorned with Alocasia leaves and Frangipani flowers, which will be available this spring, as well.
Once again thank you for your continued patronage, support, and enthusiasm. We look forward to supplying you with beautiful, unusual, quality grown plants and now furniture and planters, too!
Dennis, Bill and the staff at Landcraft