Dear Gardening Friends,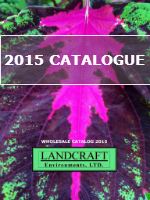 2015 is shaping up to be an interesting year here at Landcraft – as always, we have added many new plants to our offerings as well as dropped a few to make room for the new. New bromeliads like Aechmea 'Black Jack' and Billbergia 'Hallelujah' will be exciting new plants to use in planters and hanging baskets. We've also added some new cannas due to the unavailability of some of our long running favorites; we continue to strive to bring you totally virus free plants by using virus indexed starter plants and keeping our own stock virus free.
You can also look forward to a wider selection of citrus this year as well - grown as shrubs and trained as standards, these beautiful and tasty plants provide fragrant blooms and a bounty of fruit. Plan on keeping these from year to year: we have had a Meyer Lemon for a number of years and it bears hundreds of delicious lemons that we use for lemon squares, lemonade, and some fabulous cocktails. Digiplexis (a cross between the common purpurea Foxglove and its "kissing cousin", the Canary Island perennial Isoplexis) are a new offering for us this year after some trials; they prove to be amazing in all respects. The result of this cross is a sterile hybrid that blooms all season from mid spring through fall and will be offered in 3 bold and different colors. We've added over 15 new hardy plants: an improved green and white variegated Acanthus that has pink blooms, some interesting Hellebores and a very exciting new golden leaved Petasites aptly named 'Golden Palms'. Also, Sasa veitchii (one of our favorite bamboos) is finally up to size and available.
Very early in the spring we will be offering a smattering of interesting and hard to find varieties of spring plants including unusual Erysimum, double flowering Primula, and Ranunculus, which will be shipped along with our regular off-season offerings (i.e. topiary, orchids, clay pot succulents and ferns and some houseplants and all of our hardy material). Availability lists will be emailed and/or faxed on a weekly basis, with current offerings also available on our website. Note that we accept smaller orders during the off-season, and ship weekly.
The gardens at Landcraft have been evolving as well: the new meadow areas planted last season are knitting together and are becoming established. The roundels have been fitted out with clematis, climbing roses and other vines and will soon be covered. The new paths are grassy and green. The ruin is a work in progress, with both stairways, fire pits and the green roof completed and most of the wall stone in place, hopefully the rest of the project will be finished by early spring. We will be open for tours starting in late June, and our Garden Conservancy Open Days www.gardenconservancy.org is scheduled for Saturday July 11th Look out for the Landcraft garden as one of several featured gardens in The Garden Conservancy's new book due to be published this year. In the early Spring edition (February) of Garden Design Magazine, the gardens in Costa Rica will be featured. Many thanks to Rob Cardillo for the amazing photography - it should be a wonderful spread.
Once again thank you for your continued patronage, support, and enthusiasm. We look forward to supplying you with beautiful, unusual, quality grown plants once again this season.
Dennis Schrader, Bill Smith and the staff at Landcraft Environments Ltd.