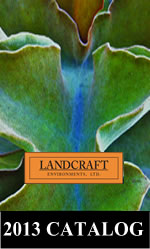 Dear Gardening Friends,
We are excited to announce a few updates and goings on here at Landcraft for the 2013 season. We have always offered a smattering of hardy plant material in the past and now we are going to offer a much wider selection and gather them together in their own section under the heading Hardy. Most of the plants have been propagated from our garden where they have been growing happily for years. We've been amassing a large and varied assortment of plants, growing in many different areas and under many different growing conditions. We have been evaluating them in terms of hardiness and overall garden performance. The plants offered range from rare exotics collected from all over the world to native plants with provenances as local as the East End of Long Island. We are also excited to announce our own hardy palm; Trachycarpus fortunei 'Landcraft' a cross made right here in the garden between 2 of the most winter hardy trunked palms in existence.

Another item on the horizon is the dreaded Impatiens blight. The majority of our Impatiens are species, which have been tested by Cornell University and held up amazingly well with no damage at all. To meet the demand for shade tolerant plants we are upping our numbers on specie type Impatiens and have added some interesting Wax Begonias, more Rex Begonia and many types of Caladiums and ferns.

The new catalogue for the 2013 seaon has many new and interesting plants added to each of the categories. New plants are noted in the main part of the catalogue with the NEW emblem as well as listed on page 5 and 6. Also new this season we will be offering Underwear for your plants. Every now and then you need an under planting to help show off the main attraction. So we are offering a selection of small textured groundcovers that can be used to fill in, around and underneath other more sizeable plants.

For the 2013 season we have also altered our half acre glass range to accommodate rollout benches. This remodeling and expansion project will allow us to increase our numbers, harden off tender plants earlier and enable us to grow an overall superior plant.

We encourage you to browse our website www.landcraftenvironments.com it's a great tool for accessing images and referencing our plants. We are also on Facebook where you can check in and see updates of what's going on in the greenhouse and garden. We post garden tour dates and other events and happenings. Landcraft's plants and gardens will be featured in a few magazines again this year, Garden Design and a wonderful story written by Tovah Martin for Country Gardens.

Thank you for your continued patronage, support, and enthusiasm. We look forward to supplying you with beautiful, unusual, quality grown plants again this season.
Dennis Schrader, Bill Smith and the staff at Landcraft Environments Ltd.